This article explains how to cultivate a positive mindset using the power of meditation to tap into our subconscious. By understanding the different brain wave stages and incorporating meditation into our daily routine, we can unlock the potential to improve our mindset and lead to a more fulfilling life.
The Power of Meditation
Meditation is a practice that allows us to quiet the mind, focus our attention and cultivate a state of inner peace. By incorporating meditation into our daily routine, we can experience numerous benefits, including;
Reduced Stress and Anxiety
Regular meditation helps to calm the mind, reducing stress and anxiety levels. It allows us to detach from negative thoughts and emotions, promoting a more positive mindset.
Improved Emotional Well-being
Meditation enhances emotional resilience, helping us manage our emotions more effectively. It promotes self-awareness and self-compassion allowing us to respond to challenging situations with greater clarity and positivity.
Enhanced Concentration and Focus
Through meditation we train our mind to stay present and focused. This improves our abilty to focus on tasks, leading to increased productivity and a more positive mindset.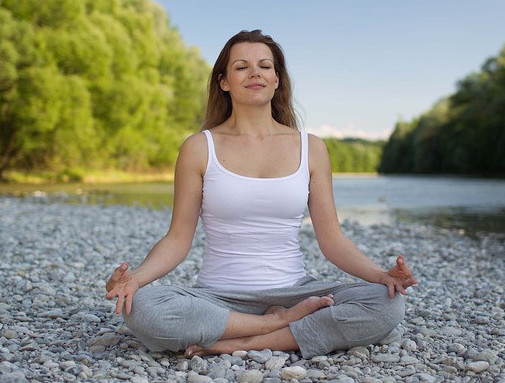 Cultivating A Positive Mindset: Meditation & Brain Waves
During meditation, our brain waves undergo distinct patterns, each associated with diffferent states of consciousness. I have found it really useful understanding the brain wave stages as this help us optimise our meditation practice and improve our mindset. It also acts as a benchmark for what types of meditation we need to use in order to achieve our objectives.
The primary brain wave stages are;
Beta Waves (14-40hz)
This is the normal waking state of consciousness, associated with active thinking, problem -solving, and stress. To improve our mindset, we need to transition from this state to more relaxed brain wave stages.
Alpha Waves (7-14hz)
Alpha waves are present during a relaxed, calm, and meditative state and this is a good state to be in because it promotes a positive mindset, creativity and a sense of well-being. Regular meditation helps us access this state more easily.
Theta Waves (4-7hz)
Theta waves are associated with deep relaxation, in creativity, and enhanced intuition. In this state, we can access our subconscious mind, allowing for personal growth, self reflection, and positive mindset transformation.
Delta Waves (0.5-4hz)
Delta waves are present duing deep sleep and profound meditation. This stage promotes healing, rejuvenation, and a sense of interconnectedness. While it may be challenging to reach this state during meditation, it can have profound effects on our mindset so be consistent and place your focus on working through the different brainwave stages.
Exploring Further
Recommendations
As the owner of this website I have hand picked a selection of useful and inspiring product ideas that have not only received great reviews, they are also great value. I receive a small commission from every sale but this does not affect the price you pay. Full Disclosure
Evolve Your Brain
The Science of Changing Your Mind Paperback – 1 Mar. 2009 – Author Joe Dispenza
Evolve Your Brain presents this information in depth, while helping you take control of your mind, explaining how thoughts can create chemical reactions that keep you addicted to patterns and feelings including ones that make you unhappy. When you know how these bad habits are created, it's possible not to only break these patterns, but also reprogram and evolve your brain, so that new, positive, and beneficial habits can take over.
As an Amazon Affiliate I earn from qualifying purchases.
Joe dispenza collection 3 books set (becoming supernatural , you are the placebo, breaking the habit of being yourself) Paperback – 1 Jan. 2018
Becoming Supernatural

In these pages, you'll explore: – How to free yourself from the past by reconditioning your body to a new mind – How changing your frequency allows you to create reality in the "generous present moment"- The secret science of the pineal gland and its role in accessing mystical realms of reality- How to shift your awareness beyond the limited, predictable material world and move into the quantum field of infinite possibilities- And much more.
You Are the Placebo

Throughout history, many cultures have experienced the effects of verifiable healings, along with hexes, curses, witchcraft, voodoo and other mysterious phenomena. These effects – many of which were elicited by unscientific means – were brought about by the beliefs and lore of the society. Even today, pharmaceutical companies use double- and triple-blind randomized studies in an attempt to exclude of the power of the mind over the body.
Breaking the Habit of Being Yourself

You are not doomed by your genes and hardwired to be a certain way for the rest of your life. A new science is emerging that empowers all human beings to create the reality they choose. In Breaking the Habit of Being Yourself, renowned author, speaker, researcher and chiropractor Dr Joe Dispenza combines the fields of quantum physics, neuroscience, brain chemistry, biology and genetics to show you what is truly possible.
As an Amazon Affiliate I earn from qualifying purchases.
Incorporating Meditation Into Your Routine
To improve your mindset through meditation consider the following tips;
Start Small
Begin with just a few minutes of meditation each day because as you get used to practising you will feel more comfortable and then you can increase the duration.
Find a Quiet Space
Choose a peaceful environment where you can meditate without distractions. This will help you focus and deepen your practice.
Experiment with Techniques
Explore different meditation techniques such as mindfulness, loving-kindness, or guided meditation. Find the one that resonates with you the most.
Consistency is Key
Make meditation a daily habit. Consistency allows your brian to adapt and rewire, leading to long-term positive mindset changes.
Cultivating a Positive Mindset
By incorporating meditation into our daily routine and understanding the different brain wave stages, we can unlock the power to improve our mindset. Through regular practice, we can reduce stress, enhance emotional well-being, and cultivate a positive outlook on life. Embrace the transformative potential of meditation and embark on a journey towards a more fulfilling and positive mindset.
I hope you found this article useful. Please feel free to ask any questions or leave a comment below.
I would love to hear from you.
Caroline