Want to find out more about what a buddha bowl is and how to make a buddha bowl? We share with you what makes them so great!
Come and grab some inspiration to get you started. We have found you the perfect pair of bowls for lunch dates, dinner parties and that rustic outdoor summer party vibe. Get a well balanced meal with an easy to follow guide that will leave you wanting more.
What is a Buddha Bowl?
A Buddha Bowl is a bursting bowl of ingredients that are thought to resemble Buddhas belly. They can contain a mixture of hot and cold foods that are soft and crunchy in texture, providing variety and goodness that includes greens, healthy grains and proteins.
The great thing about a buddha bowl is that you can prepare the different elements of the dish at your leisure and put them together in a bowl when done. For this reason it removes the time constraint and you are able to prepare a batch that could easily last you for several days. As long as you store your ingredients at the correct temperature and make sure they are in sealed containers you can't go wrong.
The Perfect Buddha Bowl
Finding the perfect bowl will enhance your feelings of gratitude, replenishment and happiness. For this reason I spent a little time looking into the right bowl for me and was pleasantly surprised when I came across a pair of organic, eco bowls with spoons and an eco straw.
Straight away I was enamoured by their story. It's a nice thought knowing that you are helping local villagers earn extra income from the Ben Tre' province in Southern Vietnam. It also means that less coconuts are burned and this way it's better for the environment.
Jungle Culture who I purchased the bowls through also pledge 1% of all of their sales to preserve and restore the natural environment. This makes a difference to local communities and environmental groups globally.
Check out my video below so you can see for yourself.
Hopefully you can see now why I wanted to share this with you. When I put my name to something by way of recommendation it's because I believe in the product/ offering. Having my food served up in those very bowls was a lovely experience. I felt enriched and very thankful.
As the owner of this website I have hand picked a selection of relevant and inspiring product ideas that have not only received great reviews, they are also great value. I receive a small commission from every sale but this does not affect the price you pay. Full Disclosure
As an Amazon Affiliate I earn from qualifying purchases.
Why Are Buddha Bowls Good For You?
Buddha Bowls are good for you because they are nutritionally packed powerhouses. You decide what goes into them and there is such a wide selection to choose from. Basically any greens and raw veg, proteins, grains, fruit & veg topped with oils and sauces.
Buddha Bowls are a great way to source extra vitamins, minerals and antioxidants all in one meal as they contain a lot of raw and non processed veg.
Grains are included for slow release energy and to keep you fuelled up they pack the dish out and help to fill you up.
The protein element of the bowl can be vegan or vegetarian thats dependent on your own beliefs and preference. Proteins are important for repair and growth. For any keen gym goers and people who work out often you will feel the benefit of protein.
You can include fruit in the bowl or within the sauce if you prefer a mostly savoury dish. Personally I like to incude fruit in my sauces with avocado and tomato coming out on top every time.
Healthy fats are essential for helping the body to absorb other vitamins such as Vitamin A, Vitamin D and Vitamin E. These are fat soluble so need fat for absorption. Healthy fats help to strengthen your immune system.
Dressings & Sauces
What kind of dressings/ sauces do you usually enjoy drizzled over your salad?
For me a firm favourite is balsamic vinegar or apple cider vinegar both contain sources of minerals and are even reported to lower LDL cholesterol. Alternatively Extra Virgin Olive Oil is great with a pinch of salt. This is full of heart healthy fats and antioxidants that may protect against inflammation.
For the base of most sauces you could opt for greek yoghurt or alternatively the vegan option of coconut or soya yoghurt for either a savoury or sweet taste. Stir in spices of your choice or blend in soft veg for added flavour and colour.
Making your own sauces is one of the most fun parts of making this dish, with the exception of putting it all together at the end and seeing the finished masterpiece in all it's glory.
How Do You Make A Buddha Bowl?
Hey Party People! My Mexican Style Buddha Bowl includes lots of garlic, cumin, paprika and smoky cajun seasoning.
It's totally down to preference and this was my personal choice. If there is anything you dont like just swap those things out for what you do like. If spices aren't your thing it's okay not to use them. Make it your own way that's what's so great about it. There is no wrong way to do this. It's totally guided by you for you.
My Mexican Style Buddha Bowl
I hope you enjoyed my video. I had so much fun making it. I'll be including the ingredients and a recipe below so that you know what I've used if you did want to replicate the dish. This will make around 3-4 meals.
Just before I do that i'll share with you the spiraliser I used for my carrots. I like it when meals look well presented.
Veg Spiraliser
As an Amazon Affiliate I earn from qualifying purchases.
Ingredients
2 Medium Sized Carrots
Spinach
1 Red Bell Pepper
1 Tin Black Eyd Beans
1 Pack of Cauliflower
1/2 Pack Mushrooms
1 Cup Brown Rice
3 Cloves of Garlic
Half Tin of Chopped Tomatoes
2 Tablespoons of Soured Cream
2 Avocados
2 Sweet Potatoes
Birds eye chillies (add for extra flavour in sauce or on salad)
1 Lime
Paprika
Smoky Cajun Seasoning
Cumin
Extra Virgin Olive Oil (not neccessity)
Balsamic Vinegar (not neccessity)
Ready, Steady, Cook!
Start by pre-heating oven to 190 degrees
Boil & Salt Pan of Water.
Add brown rice to pan (cook for 40-45 Minutes)
Peel and cut up sweet potato & Chop mushrooms in half
Add both to a baking tray with olive oil and cover with spices (cook 35- 40 Minutes)
Heat Black Eyed Beans (5 mins not high heat)
Drain and add onto a baking tray with olive oil and spices (cook for 15 mins) check regularly
Peel & Spiralise / grate your carrot
Slice Bell Pepper
For your first sauce Cut open both avocados and spoon out into a small serving bowl. Add the juice of one lime and two tablespoons of soured cream. Blend into a creamy paste.
For your second sauce Crush cloves of garlic and add tomatoes, squeeze in any remaining lime juice or add a splash of lemon. Add a few chopped up birds eye chillies for extra zing.
Once everything is prepared and good to go grab your funky buddha bowls and you are good to go!
Buddha Creations
I've added my finished bowl below. Hope you found this article inspiring! and if you haven't tried a Buddha Bowl before now is the perfect opportunity to giive it a go and see what you think!
Before I forget here is my finished bowl below.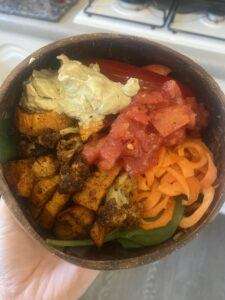 Please keep me posted with how you get on and drop me a line I would love to hear from you!
Take Care & Happy Eating!
Caroline